Cactus Chapter im Wilden Westen – 6 Männer auf 8 Maschinen durch den tiefen Westen der USA
Cactus Chapter goes West – 6 men on 8 Maschines exploring America"s deep west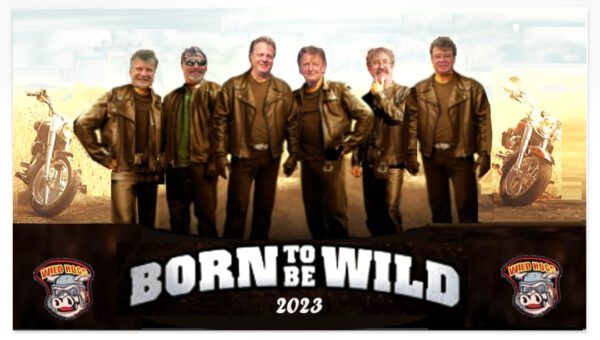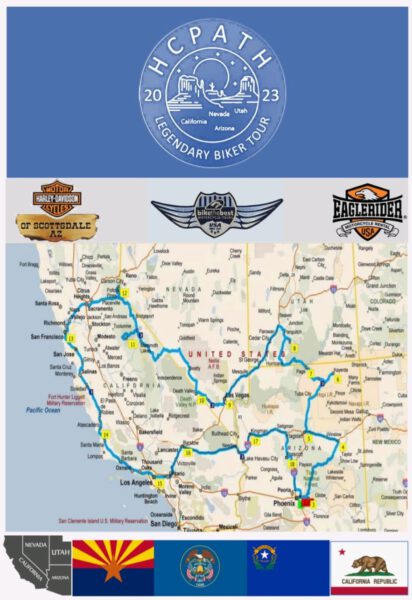 Unser gemeinsames Abenteuer – H C P A T H – 2023
German:
Tag 1 und 2, 18.05.2023 (Donnerstag) und 19.05.2023 (Freitag)
"Das Abenteuer beginnt – auf und davon" Ankunft in Scottsdale… Maschinenaufnahme und Apache Junction
Die letzten Vorbereitungen waren rechtzeitig getroffen…
Alle hatten es pünktlich zum Flughafen in Düsseldorf geschafft und auch alle notwendigen Papiere dabei. Es konnte nun nach mehr als anderthalb Jahren Planung endlich losgehen. Den ersten Zwischenstopp gab es in London Heathrow. Frisch gestärkt durch Fish & Chips ging es danach zum nächsten Flieger, der die Strecke London – Phoenix Non- Stopp in etwas unter 12 Stunden bewältigte. In Phoenix angekommen, waren alle Zollformalitäten schnell und komplikationslos überwunden. Danach ging es per Taxi zu unserem ersten Hotel, dem "Rodeway Inn Oldtown Scottsdale". Erstmal akklimatisieren. Hier herrschen halt deutlich höhere Temperaturen. Aber es ist eine sehr angenehme sehr trockene Hitze.
Abends wurde dann noch die Altstadt von Scottsdale besichtigt, die sich selbst als die "The West's most Western Town" bezeichnet und eine Burger-Kleinigkeit gegessen, um dann mit dem Tuk-Tuk zurück zum Hotel zu fahren. Am nächsten Morgen erwartete uns dann die Motorradübernahme in Mesa und die Abfahrt zum Motel "Best Western Apache Junction Inn". In Apache Junction angekommen fuhren einige von uns abends noch nach Goldfield Ghosttown, eine alte Goldgräberstadt. Warum? Natürlich um es sich bei einem guten Steak und kurzem, aber unvergesslichen Ausritt auf einem Mustang gut gehen zu lassen. Die anderen erholten sich derweil im Hotel & Pool.
English:
Day 1 and 2, May 18, 2023 (Thursday) and May 19, 2023 (Friday)
"The adventure begins – Up up and away" Arriving in Scottsdale… machine pickup and Apache Junction
The last preparations were made in time…
Everyone made it to the airport in Düsseldorf on time and also had all the required papers with them. After more than one and a half years of planning, the trip could finally begin. The first stopover was in London Heathrow. Strengthened with fish & chips, we then boarded the next plane, which covered the distance London – Phoenix non-stop in just under 12 hours. Arrived in Phoenix, all customs formalities were overcome quickly and without complications. Then we took a cab to our first hotel, the "Rodeway Inn Oldtown Scottsdale". First, we had to adjust to the temperatures, which are much higher there. But it is a very pleasant, very dry heat. In the evening we visited the old town of Scottsdale, called the "The West's most Western Town " and ate a burger snack, and then took a Tuk-Tuk back to the hotel. The next morning, the motorcycle-pickup in Mesa and the departure to the motel "Best Western Apache Junction Inn" awaited us.
Once in Apache Junction, some of us took an evening drive to Goldfield Ghosttown, an old gold mining town. Why? Of course, to enjoy a good steak and a short but unforgettable ride on a Mustang. The others relaxed in the hotel & pool in the meantime.
German:
Tag 3, 20.05.2023 (Samstag)
"Neu gegründete Chapter Freundschaft" Treffen des Superstition Chapter in Apache Junction
Morgens ab 09:00 Uhr ging es dann los, zum von langer Hand vorbereiteten Treffen mit dem Superstition Chapter in ihren Clubraum bei Harley Davidson in Apache Junction.
Folgende Chapter Freunde bereiteten uns einen sehr herzlichen Empfang:
Don (Director & Head Road Captain),
Ron (Assistant Director / Road Captain),
Denice (Secretary),
Paul (Activities Officer),
Pam (Treasurer),
Elaine (Photographer),
Jenn (Ladies of Harley),
Betty (Membership Officer),
Ann (Chapter Ambassador),
und Karen (Editor)
Leider fehlte an diesem Tag krankheitsbedingt George Pederson [Chapter Liaison Officer / Webmaster)] der sich jedoch nach unserer Reise sehr bedauernd per mail meldete). Der sehr nette Empfang erfolgte jedoch nicht nur seitens der Officer, sondern auch seitens aller anderen anwesenden Member. Man sehe mir bitte nach, falls ich hier den ein oder anderen Namen vergessen haben sollte. Danach ging es in eine allgemeinen Vorstellungsrunde. Nach der Vorstellungsrunde, bei der ich sehr gerne unsere Gruppe und Chapter vorstellen durfte, wurde ich gefragt bitte ausgiebig über unsere Reise zu erzählen- was ich dann auch sehr ausgiebig und gerne tat.
Danach erfolgten verschiedenste Chapter Berichte und Ansprachen und wir hielten gemeinsame Foto sessions ab. Im weiteren Verlauf durften wir an Chapter- Verlosungen teilnehmen. Man mag es kaum glauben, aber wir gewannen tatsächlich auch verschiedenste schöne Dinge, wie Münzen Patches und Embleme. HaJo hatte das Glück den Hauptpreis von 50 USD cash abzuräumen. Danach ging es an den weiteren Tausch von Pins & Patches, um dann den Morgen gemeinsam mit gratis Hot Dogs zu beenden. Am Nachmittag fuhren wir, begleitet von einem Superstition Pärchen auf einem Trike dann über meine Lieblingsstrecke die alte Route 88 über wunderschöne kakteenbewachsene Hänge und Pässe. Man konnte sich kaum satt sehen an den adlerbewachten Canyons, die uns über eine Strecke mit 127 Kurven zu unserem Ziel in Tortilla Flats führten.
In Tortilla Flats angekommen (eine der letzten noch bis 1904 aktiven Postkutschenstationen) mussten wir uns natürlich erneut stärken und dem Saloon einen gemeinsam unterschriebenen Dollarschein widmen, der dann an die Saloonwand geklebt wurde (Gerüchte besagen es hingen an den Saloon- Wänden bereits vor etwa 10 Jahren ca. 150.000 USD. Die ältesten aus 1904). Alle Gelscheine sind bis heute gültig. Danach fuhren wir zu einem ausgiebigen Bad zum etwa 5 Meilen entfernten 40 Meter tiefen und herrlich kühlen Canyon Lake, um uns beim Schwimmen gründlich zu erfrischen.
Als sich der Tag dem Abend neigte fuhren wir (mittlerweile wieder trocken) zum gemeinsamen Steakessen mit Ron Neprily (Vice Director) seiner Gattin Madelyn und Bob Block (Historian) vom Superstition Chapter zum besten und größten Steakhouse von Goldfield Ghosttown.
English:
Day 3, May 20, 2023 (Saturday)
"Newly founded Chapter friendship" Meeting the Superstition Chapter in Apache Junction
In the morning from 09:00 o'clock we went to the long-prepared meeting with the Superstition Chapter in their club room at Harley Davidson in Apache Junction.
The following chapter friends gave us a very friendly welcome:
Don (Director & Head Road Captain),
Ron (Assistant Director / Road Captain),
Denice (Secretary),
Paul (Activities Officer),
Pam (Treasurer),
Elaine (Photographer),
Jenn (Ladies of Harley),
Betty (Membership Officer),
Ann (Chapter Ambassador)
and Karen (Editor)
Unfortunately, George Pederson [Chapter Liaison Officer / Webmaster)] was missing on this day due to illness, but after our trip he contacted us very regretfully by mail).
The very kind reception was not only from the officers, but also from all the other members, that were present. I apologize if I forgot one or the other name here. After that we went into a general round of introductions. After the introduction, in which I was allowed to introduce our group and chapter, I was asked to talk about our journey – which I did very extensively and with pleasure.
Afterwards we had various chapter reports and speeches and we held joint photo sessions. In the further course we were allowed to participate in chapter raffles. It's hard to believe, but we actually won some nice things, like coin patches and emblems. HaJo was lucky enough to win the main prize of 50 USD cash. After that we continued to exchange pins & patches and ended the morning together with free hot dogs. In the afternoon, accompanied by a superstition couple on a trike, we drove along my favourite route, the old Route 88, which passes beautiful cactus-covered slopes and passes. We could not get enough of the beautiful view of the eagle-accompanied canyons that led us over a stretch of 127 curves to our destination at Tortilla Flats.
Arrived in Tortilla Flats (one of the last, still until 1904, active stagecoach stations) we had to strengthen ourselves of course again and dedicate a jointly signed dollar bill to the saloon, which was then stuck to the saloon wall (rumors claim there were bills worth of 150,000 USD hanging on the walls of the saloon already about 10 years ago The oldest bill is said to be from 1904). All the money bills are still valid today. Afterwards we drove to the 40-meter deep and wonderfully cool Canyon Lake, about 5 miles away, for an extensive swim to refresh ourselves thoroughly. As the day drew to a close, we drove (by now dry again) to the best and largest steakhouse in Goldfield Ghosttown for a steak dinner with Ron Neprily (Vice Director) his wife Madelyn and Bob Block (Historian) of the Superstition Chapter.
German:
Tag 4, 21.05.2023 (Sonntag)
"Totales Western Feeling." Weiter nach Holbrook- zur Übernachtung in Tipis
Auf dem Weg von Apache Junction nach Holbrook wurden wir durch unglaublich schönen Landschaftsausblicke und tolle Motorradstrecken belohnt. Die Ankunft in Holbrook? Ein Erlebnis der besonderen Art. Das in den 1930 bis 1950'er Jahren auf Hopi- Indianer Gebiet erbaute "Wigwam – Village Motel" in Holbrook. Die Tipis sind aus Beton, jedoch mit Klimaanlagen, Schlaf- und Badezimmern ausgestattet. Das Wigwam Motel diente nicht nur als Vorbild für den Pixar / Disney Film: Cars. Zusätzlich ist es im Verzeichnis der "American- Heritage Places" aufgeführt und wird nach wie vor von der Gründerfamilie geführt. Einige von uns machten dann noch einen Abstecher zum sehr eindrucksvollen Petrified Forrest (versteinerter Wald) Museum. Andere ließen es sich an den Tipis gut gehen. Abends ging es dann gemeinsam in das örtliche Steakhouse.
English:
Day 4, May 21, 2023 (Sunday)
"Total Western feeling." Heading to Holbrook – for overnight stays in tipis
– On the way from Apache Junction to Holbrook, we were rewarded by incredibly beautiful scenic views and great motorcycle trails. The arrival in Holbrook? An experience of a special kind. The "Wigwam – Village Motel" in Holbrook, built in the 1930's to 1950's on Hopi Indian territory. The teepees are made of concrete, but equipped with air conditioning, bedrooms and bathrooms. The Wigwam Motel not only served as a model for the Pixar / Disney movie: Cars. In addition, it is listed in the "American Heritage Places" directory and is still run by the founding family. Some of us then made a detour to the very impressive Petrified Forrest Museum. Others enjoyed themselves at the teepees. In the evening we went together to the local steakhouse.
German:
Tag 5, 22.05. 2023 (Montag)
"Tor zum Grand Canyon" Grand Canyon, Sedona und Flagstaff
Nach einer langen Fahrt durch Wüsten und wunderschöne Naturgegenden erreichten wir schließlich den Grand Canyon – ein absolut beeindruckendes Naturschauspiel. Der Colorado River schlängelte sich tief im Canyon und wirkte wie ein kleines Rinnsal. Es war einfach atemberaubend.
Anschließend fuhren wir weiter nach Sedona, eine Stadt, die stolz darauf ist, die längste natürliche Fluss-Steinrutsche der Welt zu haben. Dort gibt es ein Tal, das einen Teil des Flusses absperrt und ihn in eine Art "Schwimmbad" verwandelt, das mit traumhaften roten Farbnuancen beeindruckt. Das kristallklare, aber eiskalte Wasser lud zum Gleiten und Klippenspringen ein. Die Natur dort war einfach unglaublich schön, wie so oft auf dieser Reise.
Am Abend schlenderten wir entlang der Route 66 in Flagstaff und kehrten im "Quality Inn Flagstaff West" ein, als gemütlichen Abschluss des Tages.
English:
Day 5, May 22, 2023 (Monday)
Grand Canyon, Sedona and Flagstaff "Gateway to the Grand Canyon"
After a long drive through deserts and beautiful natural areas, we finally reached the Grand Canyon – an absolutely impressive natural spectacle. The Colorado River meandered deep in the canyon and looked like a small trickle. It was simply breath-taking.
We then continued to Sedona, a town that prides itself on having the longest natural river rockslide in the world. There, there is a valley that closes off part of the river, turning it into a sort of "swimming pool" that impresses with gorgeous red hues. The crystal clear but ice-cold water invited to glide and cliff jump. The nature there was just incredibly beautiful, as so often on this trip.
In the evening we strolled along Route 66 in Flagstaff and stopped at the "Quality Inn Flagstaff West" as a cozy end of the day.
German:
Tag 6, 23.05.2023 (Dienstag)
"DAS Western Flair" Monument Valley und Kayenta
Vor uns erstreckten sich unendliche Weiten und faszinierende Landschaften, die uns in ihren Bann zogen. Als Belohnung für unsere weitere Etappe erblickten wir die beeindruckenden, zerklüfteten Berge, die vermutlich schon hunderte male in Filmen mit John Wayne, Burt Lancaster und anderen Hollywood Größen zu sehen waren. Diese majestätischen Berge befinden sich im Grenzgebiet zwischen Arizona und Utah und waren einst Heimat der Anasazi- Indianer. Doch seit etwa 1300 sind es die Navajo- Indianer, die hier leben und ihre Kultur bewahren. Diese Tradition hat bis heute Bestand.
In der Nacht fanden wir Unterkunft im "Monument
Valley Inn" in Kayenta, einem weitläufigen Motel, das im Besitz der Navajo ist. Das Motel bot uns nicht nur eine komfortable Übernachtungsmöglichkeit, sondern auch eine einzigartige Atmosphäre. Denn die Angestellten boten die Möglichkeit an, bei Interesse noch mehr über die Geschichte und Traditionen der Navajo zu berichten. Es war ein weiteres unvergessliches Erlebnis.
English:
Day 6, May 23, 2023 (Tuesday)
"THE Western flair" Monument Valley and Kayenta
In front of us stretched endless expanses and fascinating landscapes that captivated us. As a reward for our further stage, we saw the impressive, rugged mountains that have probably been seen hundreds of times in movies with John Wayne, Burt Lancaster and other Hollywood greats. These majestic mountains are located in the border area between Arizona and Utah and were once home to the Anasazi Indians. But since about 1300, it has been the Navajo Indians who live here and preserve their culture. This tradition has endured to this day.
During the night we found lodging at the "Monument Valley Inn" in Kayenta, a spacious motel owned by the Navajo. The motel offered us not only a comfortable place to stay, but also a unique atmosphere. This was because the staff offered the opportunity to tell us even more about Navajo history and traditions if we were interested. It was another unforgettable experience.
German:
Tag 7, 24.05.2023 (Mittwoch)
"Die rote Tropfsteinhöhle ohne Decke" Bryce Canyon
Erneut führte uns unsere Reise durch schier endlose Weiten, die von weiten Ebenen und majestätischen Gebirgen am Horizont geprägt waren. Wir wurden Zeugen unglaublicher Landschaften, in denen sich Berge, Täler und Wüsten mit bewaldeten Gegenden abwechselten. Als wir schließlich die "Bryce View Lodge" am Bryce Canyon erreichten, bestiegen einige von uns sofort den Bus, um zum Herzen des Canyons zu gelangen. Von hier aus war es sowohl mit dem Bus als auch mit dem Motorrad sehr einfach, den unglaublich schönen Bryce Canyon zu erkunden.
Im Gegensatz zu den meisten bekannten Canyons der USA entstand der Bryce Canyon nicht durch einen Fluss, sondern durch die langsame Erosion, die durch Wind, Wasser und Eis im Laufe der Zeit verursacht wurde. Genauer gesagt handelt es sich hierbei nicht um eine einzige Schlucht, sondern um eine Reihe von Amphitheatern. Die gesamte Landschaft ist in ein tiefes Rot getaucht, und der Canyon wirkt wie eine Tropfsteinhöhle, deren Decke entfernt wurde. Es war eine äußerst beeindruckende Szenerie, die uns teils sprachlos machte.
English:
Day 7, May 24, 2023 (Wednesday)
"The red stalagmite cave" Bryce Canyon
Once again, our journey took us through seemingly endless expanses, characterized by vast plains and majestic mountains on the horizon. We witnessed incredible landscapes where mountains, valleys and deserts alternated with forested areas. When we finally reached the "Bryce View Lodge" at Bryce Canyon, some of us immediately boarded the bus to get to the heart of the canyon. From here, it was very easy to explore the incredibly beautiful Bryce Canyon by both bus and motorcycle.
Unlike most of the well-known canyons in the USA, Bryce Canyon was not formed by a river, but by slow erosion caused by wind, water and ice over time. More specifically, it is not a single canyon, but a series of amphitheatres. The entire landscape is bathed in a deep red, and the canyon looks like a stalactite cave whose ceiling has been removed. It was an extremely impressive scenery that left us partly speechless.
German:
Tag 8, 25.05.2023 (Donnerstag)
Viva Las Vegas "Die glitzernde Welt"
Die Fahrt durch die heiße und trockene Wüste war erneut "Abenteuer pur", doch die Vorfreude auf die glitzernde Stadt ließ uns die Hitze schnell vergessen. Nach der langen, aber erneut wunderschönen Fahrt erreichten wir schließlich Las Vegas. Uns erwartete eine drückende Hitze, die durch die dichte Bebauung der Stadt noch verstärkt wurde. Es war ein regelrechter Kulturschock, denn wir kamen von den idyllischen Landschaftsparadiesen in den hektischen Asphaltdschungel der Spielerhölle. Unsere Navigationsgeräte versagten, und wir erhielten falsche Wegbeschreibungen. Doch am Ende fanden wir unser Motel, das sich als geographischer Glücksgriff erwies – das Travelodge Inn by Windham, das direkt am berühmten Strip gelegen war.
Am Abend machten wir uns auf, den glitzernden und faszinierenden Strip und seine umliegenden Casinos zu erkunden. Andy und ich riskierten unser Glück und spielten jeweils eine Runde am einarmigen Banditen… Tja, Pech im Spiel, Glück in der Liebe. Wir haben es dann mit dem Spielen lieber sein lassen. Also weiter zum Hardrock Café, vorbei an Las Vegas Venetian, Caesars Palace, Paris, New York und Piratenbooten um als krönenden Abschluss des Tages mit einem guten Steak verwöhnt zu werden.
English:
Day 8, May 25, 2023 (Thursday)
"The Glittering World" Viva Las Vegas
The drive through the hot and dry desert was again "pure adventure", but the anticipation of the glittering city made us quickly forget the heat. After the long, but again beautiful drive, we finally reached Las Vegas. An oppressive heat awaited us, which was intensified by the dense development of the city. It was a real culture shock, as we went from the idyllic countryside paradises to the hectic asphalt jungle of gambling hell. Our navigation devices failed, and we received incorrect directions. But in the end, we found our motel, which turned out to be a geographical stroke of luck – the Travelodge Inn by Windham, located right on the famous Strip.
That evening we set out to explore the glittering and fascinating Strip and its surrounding casinos. Andy and I risked our luck and each played a round at the one-armed bandit… Well, unlucky at play, lucky in love. We have it then with the play rather let be. So on to the Hardrock Cafe, past Las Vegas Venetian, Caesars Palace, Paris, New York and pirate boats to be spoiled as a crowning conclusion of the day with a good steak.
German:
Tag 9, 26.05.2023 (Freitag)
"Viva Las Vegas" Teil 2
Heute hatten wir die Gelegenheit, sowohl
das alte als auch das neue Las Vegas in aller Ruhe zu erkunden – ein wahrhaftiges Gesamtkunstwerk. Wir waren umgeben von einer Vielzahl an verrückten und selbstbewussten Menschen, von Erfolgreichen bis hin zu Gescheiterten. Pracht und Armut existieren hier Seite an Seite. Die einhellige Meinung war, dass das alte überdachte Las Vegas mit seinem altbekannten Glanz schöner ist, während der neue Teil versucht, sich mit Superlativen zu überbieten.
Ein besonderer Höhepunkt war unser Besuch bei Harley Davidson Las Vegas. Dort gab es zwar tolle T-Shirts und vieles andere an Merchandising allerdings war das Personal teilweise nicht besonders zuvorkommend und schien sich auch auf einem etwas höheren Ross zu befinden. Dennoch war es eine schöne Filiale, direkt neben dem ikonischen "Welcome to Las Vegas" Schild gelegen. Es war nicht ganz einfach hier halbwegs gelungene Schnappschüsse zu machen da es dort vor Touristen nur so wimmelte. Aber letztlich gelang es uns doch.
English:
Day 9,May 26, 2023 (Friday)
"Viva Las Vegas" Part 2
Today we had the opportunity to explore both to explore both the old and the new Las Vegas at our leisure – a true synthesis of the arts. We were surrounded by a variety of crazy and self-confident people, from the successful to the failed. Splendor and poverty exist side by side here. The unanimous opinion was that the old, covered Las Vegas with its old-fashioned glamour is more beautiful, while the new part tries to outdo itself with superlatives.
A special highlight was our visit to Harley Davidson Las Vegas. There were great T-shirts and a lot of other merchandising, but the staff was partly not very accommodating and also seemed to be on a somewhat higher horse. Still, it was a nice store, located right next to the iconic "Welcome to Las Vegas" sign. It wasn't quite easy to take halfway successful snapshots here as it was teeming with tourists. But in the end we succeeded.
German:
Tag 10, 27.05.2023 (Samstag)
"Leaving Las Vegas … willkommen im Death Valley"
Wieder einmal ging es weiter durch atemberaubende Landschaften, die uns mit unvergesslichen Eindrücken beschenkten. Die Nähe zum Death Valley wurde immer deutlicher spürbar, vor allem anhand der steigenden Temperaturen. Wir passierten bunte Borax-Berge. Die Hitze schien uns förmlich zu umhüllen – und das, obwohl es erst Mai war. Trotz und gerade wegen der sengenden Hitze wagten wir einen Sprung in den erfrischenden Pool, der von einer tiefen Quelle im Death Valley gespeist wurde. Das Wasser des Pools der "Ranch at Death Valley" bei der wir zwischenzeitlich angekommen waren, war mit ca. 30° Celsius zwar nicht kalt, aber dennoch eine wohltuende Erfrischung, die wir alle in vollen Zügen genossen, da immer noch deutlich kühler als die Außentemperatur.
Das Death Valley liegt im Territorium der Shoshonen. Ihr Reservat grenzt unmittelbar an die Ranch. Es ist unter eigener Verwaltung mit Bürgermeister und eigenen Ordnungskräften sowie Infrastruktur. Sehr zu unserem Bedauern blieb uns leider ein Einblick verwehrt, da man für einen Besuch erst umständliche Genehmigungen hätte einholen müssen. Das gilt, wie wir erfuhren, nicht nur für Reisende, sondern auch für US-Bürger.
English:
Day 10, May 27, 2023 (Saturday)
"Leaving Las Vegas … welcome to Death Valley"
Once again, we continued through breath-taking landscapes that gifted us with unforgettable impressions. The proximity to Death Valley became more and more noticeable, especially with the rising temperatures. We passed colorful borax mountains. The heat seemed to literally envelop us – even though it was only May. Despite and just because of the scorching heat we dared to jump into the refreshing pool, which was fed by a deep spring in Death Valley. The water of the pool of the "Ranch at Death Valley" at which we had arrived in the meantime, was with approx. 30° Celsius not cold, but nevertheless a pleasant refreshment, which we all enjoyed to the fullest, since still clearly cooler than the outside temperature. Death Valley is located in the territory of the Shoshone. Their reservation borders directly on the ranch. It is under its own administration with its own mayor, law enforcement and infrastructure.Much to our regret, we were denied a glimpse of the area, as we would have had to obtain cumbersome permits before visiting. This applies, as we learned, not only for travellers but also for US citizens.
German:
Tag 11, 28.09.2023 (Sonntag)
"Ein Ende mit Schrecken- aber kein Schrecken ohne Ende… Ein neues Abenteuer". Auf dem Weg nach Visalia
Bevor wir das Death Valley verließen, wagten einige von uns noch einen Abstecher zum Badwater-Basin. Mit seinen 86 Metern unter dem Meeresspiegel war es nicht nur der tiefste Punkt Nordamerikas, sondern auch der heißeste Ort der Welt. Hier herrschen lebensfeindliche Temperaturen von regelmäßig über 50 Grad Celsius. Doch davon ließen sich einige von uns nicht abschrecken.
Nachdem wir genug Hitze getankt hatten, setzten wir unsere Reise nach Visalia fort. Dieser Zwischenstopp war notwendig, um zum Yosemite Park zu gelangen. Ursprünglich hatten wir geplant, von Nordosten aus nach Mariposa zu fahren. Doch aufgrund der enormen Schneemassen mussten wir unsere Route ändern und stattdessen aus dem Südwesten anreisen.
Auf dem Weg nach Visalia, an einer langen und steilen Steigung, geschah dann das Pech.
Die Lichtmaschine von Andys Harley gab den Geist auf und wir waren plötzlich "irgendwo im Nirgendwo" mit einem technischen Defekt gestrandet. Nach zahlreichen erschwerten Telefonaten (nur ein schmaler Seitenstreifen vor einem Abhang vor uns – und hinter uns aufbrüllende Truck- Motoren, die die steile Steigung hinaufwollten) gelang es uns schließlich, einen Abschleppdienst zu finden. Glücklicherweise wurde die Maschine rechtzeitig auf ein geschlossenes Gelände in Bakersfield gebracht, bevor der örtliche Sheriff seine Drohung wahr machen konnte die Maschine nach weiteren 4 Stunden zu konfiszieren. Bis es mit dem Abschleppen so weit war, verbrachten wir noch einige Zeit auf dem Highway. Kaum war der Abschleppdienst vor Ort, verteilten wir in Windeseile Andys komplettes Gepäck auf die restlichen fünf Motorräder und machten uns mit 7 Stunden Verspätung auf den Weg zum Hampton Inn in Visalia. Die Herausforderungen und Hindernisse hatten uns zwar ausgebremst, aber keinesfalls entmutigt. Na und? Es hätte jeden treffen können.
Pleiten, Pech und Pannen gehören nun mal zu einem echten und abenteuerlichen Roadtrip dazu.
English:
Day 11, May 28, 2023 (Sunday)
"A horrible end is better than endless horror… A new adventure". On the way to Visalia
Before leaving Death Valley, some of us ventured to Badwater-Basin. With its 86 meters below sea level, it was not only the lowest point in North America, but also the hottest place in the world. Here, hostile temperatures of regularly over 50 degrees Celsius prevail. But some of us were not deterred by this.
After we had refuelled enough heat, we continued our journey to Visalia. This stopover was necessary to get to Yosemite Park. Originally, we had planned to drive to Mariposa from the northeast. However, due to the enormous amount of snow, we had to change our route and arrive from the southwest instead.
On the way to Visalia, on a long and steep climb, bad luck happened.
The alternator of Andy's Harley gave up the ghost and we were suddenly stranded "somewhere in the middle of nowhere" with a technical defect. After numerous difficult phone calls (only a narrow shoulder in front of a slope in front of us – and behind us roaring truck engines that wanted to climb the steep slope) we finally managed to find a towing service. Fortunately, the machine was brought to a closed area in Bakersfield in time before the local sheriff could make good his threat to confiscate the machine after another 4 hours. Until it was time for the tow, we spent some more time on the highway. As soon as the towing service was on site, we distributed Andy's complete luggage on the remaining five motorcycles in no time at all and made our way to the Hampton Inn in Visalia with a 7-hour-delay. The challenges and obstacles had slowed us down, but by no means discouraged us. So what? It could have happened to anyone.
Breakdowns, bad luck and mishaps are all part of a real and adventurous road trip.
German: Tag 12, 29.05.2023 (Montag)
"Viele Wege führen nach Rom" – "Der Anschluss"
Nach kurzer Überlegung war die Entscheidung getroffen. Zum ersten Mal auf unserem Roadtrip trennten sich unsere Wege gründlichst.
Peter, HaJo, Christoph und Tom setzten ihre Reise fort und fuhren 120 Meilen nördlich nach Mariposa im Yosemite Park. Ich hingegen machte mich mit meinem Sozius Andy auf den knapp 180 Meilen langen Weg nach Süden, um in Los Angeles eine neue Maschine für Andy zu besorgen. Trotz der gleißenden Hitze und des chaotisch kollabierenden Verkehrs in Los Angeles versuchten wir, die Strecke in Rekordzeit zu bewältigen. Schließlich warteten auf uns noch weitere 320 Meilen in Richtung Norden, um wieder zur Gruppe aufzuschließen. Doch nur 20 Meilen vor dem Ziel geschah es. Die Kupplung meiner E-Glide gab ebenfalls den Geist auf.
In unserer unvorhersehbaren Lage kam eine lokale Straßengang vorbei und half unaufgefordert, aber äußerst tatkräftig dabei, ein Abschleppunternehmen zu finden. Trotz der dreistündigen Verspätung erreichten wir schließlich unser Ziel in Los Angeles. Zu unserem großen Glück erklärte sich Rafael, der Leiter der Eagle Filiale, bereit, uns weit nach Geschäftsschluss noch zwei Street-Glides auszuhändigen. Also schnell aufgesessen und los ging die wilde Jagd. Immer weiter nach Norden, immer am Limit. Es war bereits weit nach Mitternacht, vielleicht halb drei Uhr morgens, als wir ziemlich durchgefroren und in völliger Dunkelheit unser Ziel in Mariposa erreichten. Die letzten 50 Meilen waren eine echte Geduldsprobe, denn die Wälder im Yosemite Park wimmelten nur so vor Wildtieren. Um eine mögliche Kollision zu vermeiden, fuhren wir von nun an "mit angezogener Handbremse" weiter.
Ein wenig müde, aber zutiefst zufrieden "hechteten" wir ins Bett und gruben uns tief unter den Decken ein; schließlich hatten wir an diesem Tag rund 800 km (500 Meilen) bei unterschiedlichsten Temperaturen und auf verschiedensten, sicher nicht einfachen Streckenabschnitten hinter uns gebracht.
English:
Day 12, May 29, 2023 (Monday)
""Many roads lead to Rome" – "Joining in"
After a short deliberation, the decision was made. For the first time on our road trip, we parted ways thoroughly.
Peter, HaJo, Christoph and Tom continued their journey and drove 120 miles north to Mariposa in Yosemite Park. I, on the other hand, set off south with my pillion Andy for the nearly 180-mile trip to Los Angeles to get a new bike for Andy. Despite the blistering heat and chaotically collapsing traffic in Los Angeles, we tried to cover the distance in record time. After all, we had another 320 miles north waiting for us to catch back up with the group. But just 20 miles from the finish, it happened. The clutch on my E-Glide also gave up the ghost.
In our unpredictable situation, a local road gang came by and, unsolicited but extremely energetic, helped find a towing company. Despite the three-hour delay, we finally reached our destination in Los Angeles. Luckily for us, Rafael, the manager of the Eagle branch, agreed to give us two street glides well after closing time. So quickly mounted and off went the wild chase. Always further north, always at the limit. It was already well past midnight, maybe 2:30 in the morning, when we reached our destination in Mariposa, frozen through and in complete darkness. The last 50 miles were a real test of patience, because the forests in Yosemite Park were teeming with wildlife. To avoid a possible collision, we continued from now on "with the handbrake on".
A little tired, but deeply satisfied, we "rushed" to bed and burrowed deep under the blankets; after all, we had covered about 800 km (500 miles) that day, in the most varied temperatures and on the most varied, certainly not easy stretches of road.
German:
Tag 13, 30.05.2023 (Dienstag)
Lake Tahoe: "Auf den Spuren von Pa, Adam, Hoss und Little Joe. Bonanza"
Da alles gut gegangen war, wurden wir am nächsten Morgen dann, freudig von Christoph, HaJo, Peter und Tom empfangen. Danach ging es an diesem Tag durch den wunderschönen Yosemite Park, um seine grandiosen Wasserfälle, Tiere und auch Mammutbäume zu blicken und zu erkunden. Aber auch die nächsten 170 Meilen Abenteuer warteten bereits auf uns. Da die Besichtigung des Parks länger als gedacht andauerte, trennten sich Christoph und Tom von der Gruppe, um noch vor Einbruch der Dunkelheit am Lake Tahoe einzutreffen. Die hungrigen unter uns, nämlich: Peter, Andy, HaJo und ich genossen derweil die Gastfreundschaft und kulinarischen Köstlichkeiten eines mexikanischen Lokals, bevor es dann viel später weiter ging und die verschneiten, teilweise mit Schmelzwasser bedeckten Bergspitzen rund um den Lake Tahoe erst gegen Mitternacht überquert wurden. Bei der Abfahrt ins Tal war erneut enorm viel Wild am Straßenrand zu beobachten und häufig auftretende Nebelbänke erschwerten die ohnehin bei finsterster Nacht nicht so gute Sicht nochmals um ein Vielfaches. Abenteuer pur: "Manchmal muss ein Man tun, was ein Mann tun muss!"
"Leicht unterkühlt" erreichten wir das 3 Peaks Ressort erst tief in der Nacht. Die Bettdecken des Hotels? Ein Traum! Sie hätten nicht dick genug sein können.
English:
Day 13, May 30, 2023 (Tuesday)
Lake Tahoe: "In the footsteps of Pa, Adam, Hoss and Little Joe. Bonanza
Since everything had gone well, we were then the next morning, joyfully received by Christoph, HaJo, Peter and Tom. After that we went that day through the beautiful Yosemite Park to look at and explore its magnificent waterfalls, animals and also redwood trees. But the next 170 miles of adventure were also waiting for us. Since the tour of the park took longer than expected, Christoph and Tom separated from the group to arrive at Lake Tahoe before nightfall. Meanwhile, the hungry among us, namely: Peter, Andy, HaJo and I enjoyed the hospitality and culinary delights of a Mexican restaurant before continuing much later and crossing the snowy, partially melt-water covered mountain peaks around Lake Tahoe only around midnight. On the descent into the valley, there was once again an enormous amount of game to be seen on the roadside, and frequently occurring fog banks made the already not so good visibility in the darkest night even more difficult. Pure adventure: "Sometimes a man has to do what a man has to do!". "Slightly hypothermic" we reached the 3 Peaks resort only deep in the night. The hotel's comforters? A dream! They could not have been thick enough.
German:
Tag 14, 31.05.2023 (Mittwoch)
"If you are going to San Francisco". Lake Tahoe und Weiterfahrt nach San Francisco…
Am nächsten Morgen waren die Müdigkeit, Kälte und Dunkelheit bereits vergessen, so als wäre nie etwas gewesen. Vor allem, nachdem wir ein köstliches Frühstück in einem nahegelegenen Restaurant genossen hatten. Was soll man sagen? Der Lake Tahoe bot natürlich spektakuläre Ausblicke – und Einblicke. Von all den Seen, die ich in den USA gesehen habe, ist er mit Abstand der schönste. Umgeben von majestätischen Ponderosa-Bäumen, faszinierenden Nadelwäldern ein Juwel aus türkisblauem Wasser. Ein Naturwunder für sich.
Der Besuch der Ponderosa Ranch an der Nordseite des Lake Tahoe, wo die TV-Serie Bonanza gedreht wurde, offenbarte jedoch ein trauriges Bild. Die Ranch wurde vom Staat Nevada für 38 Millionen USD an einen IT-Millionär aus San Francisco verkauft und teilweise bereits abgerissen. Nicht nur für uns, sondern auch für Gastronomen und Einwohner war und ist dies eine herbe Enttäuschung. Also "ab durch die Mitte". Ohne großes Zögern machten wir uns nun auf den Weg über die Hochpässe, die den Lake Tahoe umgeben, und verließen Nevada, um ins "California Dreaming" einzutauchen. Als wir im Laufe des Tages in San Francisco ankamen und über die Golden Gate Bridge fuhren, bot sich uns ein erster Blick auf diese außergewöhnliche und faszinierend schöne Großstadt. Nachdem wir im Motel Capri eingecheckt hatten, ließen wir den Tag entspannt in einem italienischen "In-Restaurant" ausklingen. Einige von uns kehrten dann zum Motel zurück, während andere magisch ans Pier 39 gezogen wurden. Eine Uber-Fahrt dorthin wurde uns von einem von uns begeisterten Amerikaner geschenkt. Als weitere Belohnung erwartete uns ein wundervoller Anblick des Piers bei abendlicher Atmosphäre, den wir mehr als ausgiebig genossen. Erst sehr spät am Abend machten wir uns auf den Rückweg zum Motel. Das natürlich nur, nachdem wir mit einem Taxifahrer erfolgreich kräftig um den Preis gefeilscht hatten.
English:
Day 14, May 31, 2023 (Wednesday)
"If you are going to San Francisco". Onward journey to San Francisco
The next morning, the tiredness, cold and darkness were already forgotten, as if nothing had ever happened. Especially after we enjoyed a delicious breakfast in a nearby restaurant. What can we say? Lake Tahoe, of course, offered spectacular views – and views. Of all the lakes I've seen in the U.S., it is by far the most beautiful. Surrounded by majestic ponderosa trees, fascinating coniferous forests a jewel of turquoise blue water. A natural wonder in its own right. However, a visit to the Ponderosa Ranch on the north side of Lake Tahoe, where the TV series Bonanza was filmed, revealed a sad picture. The ranch was sold by the state of Nevada for $38 million to an IT millionaire from San Francisco and has already been partially demolished. Not only for us, but also for restaurateurs and residents this was and is a bitter disappointment. So "off through the middle". Without much hesitation we now made our way over the high passes surrounding Lake Tahoe and left Nevada to dive into the "California Dreaming". As we arrived in San Francisco later in the day and drove over the Golden Gate Bridge, we were treated to our first glimpse of this extraordinary and fascinatingly beautiful metropolis. After checking into the Motel Capri, we ended the day relaxing at an Italian "in" restaurant. Some of us then returned to the motel, while others were magically drawn to Pier 39. An Uber ride there was given to us by one of us enthusiastic Americans. As a further reward, a wonderful view of the pier awaited us in the evening atmosphere, which we enjoyed more than extensively. Only very late in the evening we made our way back to the motel. That, of course, only after we had successfully haggled vigorously with a cab driver about the price.
German:
Tag 15 01.06.2023 (Donnerstag)
"Die Straßen von San Francisco". Die Stadt, Piers 39, Alcatraz und Fisherman's Warf
Am nächsten Morgen lockte uns "Der Ruf der Berge". Die Straßen von San Francisco sind unglaublich steil, und um unser Ziel, die berühmte Lombard Street, zu erreichen, mussten wir zu Fuß so einiges an Höhenmetern überwinden. Nachdem wir die Lombard Street ausgiebig besichtigt hatten (angeblich die steilste Straße der Welt), schlenderten wir gemütlich in Richtung Pier 39. Dort erkundeten wir jeden Souvenirshop aufs gründlichste. Für das leibliche Wohl sorgte ein Schnellimbiss. Danach trennte sich die Gruppe. Einige blieben am Pier, um die nahen umliegenden Sehenswürdigkeiten zu erkunden und dann zum Motel zurückzukehren. Andere setzten mit der Fähre nach Alcatraz über. Entgegen allen Prophezeiungen waren vorherige Internetbuchungen nicht erforderlich. Es gab genügend Plätze, und wir kamen bereits kurz nach 15:30 Uhr bei strahlendem Wetter auf Alcatraz an. Alcatraz; eine faszinierende Welt für sich: Himmel (vom Ausblick der Insel aus) und Hölle (für die Insassen, die das, was sie sahen, womöglich nie lebend erreichen konnten). Die Tour durch Alcatraz wurde von einer großartigen Audioführung begleitet, die mit sehr eindrucksvollen Originalaufnahmen ehemaliger Insassen versehen war. Das Schöne an unserer Situation war, dass WIR die Insel "ohne Flucht" jederzeit wieder verlassen konnten. Am Ende des Tages war es ein tief beeindruckendes Erlebnis, das zum Nachdenken anregte. Den Abend verbrachten wir in einem exzellenten italienischen Restaurant namens "Tony" in der Nähe von Telegraph Hill (dort wuchs laut Jack London der Seewolf auf).
English:
Day 15, June 01, 2023 (Thursday)
"The Streets of San Francisco". The city, Pier 39, Alcatraz and Fisherman's Warf
The next morning, "The Call of the Mountains" beckoned us. The streets of San Francisco are incredibly steep, and to reach our destination, the famous Lombard Street, we had to climb quite a bit on foot. After we had visited Lombard Street extensively (supposedly the steepest street in the world), we strolled leisurely towards Pier 39. There we explored every souvenir store thoroughly. For the physical well-being a fast-food restaurant provided. After that the group split up. Some stayed at the pier to explore the nearby surrounding sights and then return to the motel. Others took the ferry to Alcatraz. Contrary to all prophecies, prior internet reservations were not required. There were plenty of seats, and we arrived on Alcatraz shortly after 3:30 p.m. in brilliant weather. Alcatraz; a fascinating world in its own right: heaven (from the island's vantage point) and hell (for the inmates who could possibly never reach what they saw alive). The tour of Alcatraz was accompanied by a great audio tour, complete with very impressive original footage of former inmates. The beauty of our situation was that WE could leave the island "without escape" at any time. At the end of the day, it was a deeply impressive and thought-provoking experience. We spent the evening at an excellent Italian restaurant called "Tony" near Telegraph Hill (according to Jack London, that's where the sea wolf grew up).
German:
Tag 16, 02.06.2023 (Freitag)
"San Francisco unter der Lupe" Pier 39, Rote Bus Tour, Muir Park, Harley Davidson, Cable Car und China Town
Der folgende Tag in San Francisco versprach erneut jede Menge Aufregung und Abenteuer. Die Sonne strahlte vom Himmel und die Stadt war voller Leben – perfekte Voraussetzungen für einen unvergesslichen Tag. Unsere Erkundungstour begann am Pier 39, wo sich Menschen aus aller Welt versammelten, um die Seelöwen auf den Docks zu beobachten und das bunte Treiben der Ess- und Einkaufsmeile zu genießen. Ein Teil unserer Gruppe hatte die Idee, die Stadt auf eine ganz besondere Art und Weise zu erkunden – mit der Red Bus Tour. Sie stiegen in den charakteristischen roten Doppeldeckerbus und begannen ihre Reise durch die Straßen von San Francisco. Während der Fahrt erfuhren sie interessante Fakten über die Stadt und sahen ihre berühmtesten Sehenswürdigkeiten.
Ein anderer Teil unserer Gruppe entschied sich für ein zusätzliches Highlight – einen Besuch im Muir Park. Die majestätischen Redwood-Bäume und die malerischen Wanderwege mit ihrer atemberaubenden Natur ließen uns sprachlos staunen. Beide Gruppen fuhren später zufällig auf der Golden Gate Bridge aneinander vorbei, den atemberaubenden Ausblick von der Brücke genießend. Nachdem die Bus- und Muir Park Tour beendet waren, trafen wir uns alle wieder am Pier 39. Von dort aus ging es weiter zu Harley Davidson auf der "Fisherman's Wharf". Nicht jedoch, ohne vorher noch den riesigen Antiquitätenladen "Route 66" unsicher gemacht zu haben.
Danach erfüllten sich alle den gemeinsamen Wunsch mit der berühmten Cable-Car zu fahren. Mit diesem ungewöhnlichen Fortbewegungsmittel ging es dann auch schnurstracks wie geplant nach China Town. In China Town angekommen war es nahezu so, als wären wir plötzlich in einer anderen Welt – man konnte fast vergessen, dass wir uns immer noch in den USA befanden. Das Essen in einem chinesischen Lokal war für einen Teil der Gruppe ein Muss und wahrer Genuss, während sich ein anderer Teil in die Nähe des Motels begab und nochmals für die italienische Küche entschied. Am Ende des Tages kehrten wir alle voller unvergesslicher Erinnerungen zum Motel zurück. Es war ein Tag voller Entdeckungen, neuer Erfahrungen, der uns ganz sicher noch lange in Erinnerung bleiben wird
English:
Day 16, June 02, 2023 (Friday)
"San Francisco under the magnifying glass" Pier 39, Red Bus Tour, Muir Park, Harley Davidson, Cable Car and China Town
The following day in San Francisco again promised plenty of excitement and adventure. The sun was beaming from the sky and the city was full of life – perfect conditions for an unforgettable day. Our exploration began at Pier 39, where people from all over the world gathered to watch the sea lions on the docks and enjoy the hustle and bustle of the food and shopping district. Part of our group had the idea to explore the city in a very special way – with the Red Bus Tour. They boarded the characteristic red double-decker bus and began their journey through the streets of San Francisco. During the ride they learned interesting facts about the city and saw its most famous landmarks. Another part of our group opted for an additional highlight – a visit to Muir Park. The majestic redwood trees and scenic hiking trails with their breathtaking nature left us speechless in amazement. Both groups later happened to pass each other on the Golden Gate Bridge, enjoying the breathtaking view from the bridge. After the bus and Muir Park tours were over, we all met back at Pier 39. From there we went on to Harley Davidson on "Fisherman's Wharf". But not without having visited the huge antique store "Route 66" first. Afterwards all fulfilled themselves the common desire with the famous Cable Car to drive. With this unusual means of transportation we went straight to China Town as planned. Arriving in China Town, it was almost as if we were suddenly in another world – one could almost forget that we were still in the USA. Eating at a Chinese restaurant was a must for part of the group and a real treat, while another part went near the motel and once again opted for Italian cuisine. At the end of the day, we all returned to the motel full of unforgettable memories. It was a day full of discoveries, new experiences that we will definitely remember for a long time.
German:
Tag 17, 03.06.2023 (Samstag)
Die Pazifiktraumstraße" Weiterfahrt über den "Highway 1" nach Slo (Einheimischen Slang für) San Luis Obispo
Von San Francisco aus machten wir uns nun auf den Weg nach Slo, wie die Einheimischen liebevoll San Luis Obispo nennen. Auf unseren Motorrädern fuhren wir durch die malerische Landschaft, begleitet von den idealen Temperaturen und dem salzigen Duft des Ozeans, der in der Luft lag. Unsere Vorfreude auf die atemberaubende Küstenlandschaft entlang des Pacific Coast Highway war kaum zu bremsen. Der Highway 1 schlängelte sich entlang der Klippen und bot uns immer wieder atemberaubende Ausblicke auf das türkisfarbene Wasser des Pazifiks. Es war ein Gefühl von Freiheit und Lebendigkeit, das uns durchströmte. An verschiedenen Aussichtspunkten hielten wir an, um die Schönheit der Natur in uns aufzusaugen und den Moment zu genießen.
Leider mussten wir auf unserer Reise feststellen, dass ein Teil des Highway 1 aufgrund von Bränden, Erdrutschen und Straßenschäden nicht befahrbar war. Uns blieb also nichts anderes übrig, als einen großen Umweg durch das Landesinnere zu nehmen, um nach Slo zu gelangen. Auf diesem Umweg begegneten wir interessanten Menschen, wie zum Beispiel einem alten Mann in Carmel-by-the-Sea. Er erzählte uns stolz, dass er der Nachbar des ehemaligen Bürgermeisters von Carmel sei. Und wer war dieser Bürgermeister? Richtig, Clint Eastwood! Der Mann berichtete uns, dass er und seine Frau Clint oft in seinem Café getroffen haben, aber seit etwa zwei Monaten nichts mehr von ihm gehört hatten. Sie vermuteten, dass es ihm gesundheitlich nicht gut ging. Mit den besten Wünschen und einem Gruß an "Dirty Harry" verabschiedeten wir uns und setzten unsere Reise fort. Später am Abend erreichten wir schließlich Slo. Bei unserer Erkundung der Stadt stellten wir fest, dass sie klein und charmant war, mit historischen Gebäuden und freundlichen Einheimischen. Für die Nacht hatten wir uns im gemütlichen Motel "La Cuesta Inn" einquartiert. Und wieder ging ein Tag vorüber voller neuer Begegnungen und unerwarteter Wendungen, der uns allen sicher noch lange in Erinnerung bleiben wird.
English:
Day 17 June 03, 2023 (Saturday)
"The Pacific Dream Road" Onward journey on Highway 1 to Slo (Native slang for) San Luis Obispo
From San Francisco, we now made our way to Slo, as the locals affectionately call San Luis Obispo. On our motorcycles, we rode through the picturesque landscape, accompanied by the ideal temperatures and the salty scent of the ocean in the air. Our anticipation of the breathtaking coastal scenery along the Pacific Coast Highway could hardly be contained. Highway 1 meandered along the cliffs, offering us breathtaking views of the turquoise waters of the Pacific again and again. It was a feeling of freedom and liveliness that flowed through us. We stopped at various viewpoints to soak up the beauty of nature and enjoy the moment. Unfortunately, during our trip, we found that part of Highway 1 was impassable due to fires, landslides and road damage. So we had no choice but to take a big detour through the interior of the country to get to Slo. On this detour we met interesting people, such as an old man in Carmel-by-the-Sea. He proudly told us that he was the neighbour of the former mayor of Carmel. And who was this mayor? That's right, Clint Eastwood! The man told us that he and his wife had often met Clint at his café, but had not heard from him in about two months. They suspected that his health was not good. With best wishes and a salute to "Dirty Harry", we said our goodbyes and continued on our journey.
Later that evening we finally reached Slo. As we explored the town, we found it to be small and charming, with historic buildings and friendly locals. For the night we had checked into the cozy motel "La Cuesta Inn". And again a day went by full of new encounters and unexpected twists and turns that will surely remain in the memory of all of us for a long time to come.
German:
Tag 18, 04.06.2023 (Sonntag)
"Es ist nicht alles Gold was glänzt" Los Angeles – Hollywood
Nach einer langen Fahrt entlang des Highway 1 und vieler wunderschöner inländischer Strecken erreichten wir Los Angeles. Kollabierender Straßenverkehr, Staus, Hitze. Trotzdem waren wir sehr neugierig die Stadt der Träume zu erkunden und all die berühmten Sehenswürdigkeiten zu besichtigen. Wir checkten im "Dunes Inn Sunset Motel" ein, einem gut gelegenen Motel in der Nähe des Sunset Boulevards. Während Tom und Christoph nun zum Hollywood Boulevard gingen entschloss sich der Rest der Gruppe den Boulevard erst abends anzuschauen- und vorher noch einen Abstecher zum wunderschönen Santa Monica Pier zu machen um dort den Nachmittag entspannt in der Sonne zu verbringen. Am Abend machten wir uns dann auch auf den Weg zum Hollywood Boulevard. Wir konnten es kaum glauben, tatsächlich auf dem berühmten Walk of Fame zu stehen, wo so viele Legenden der Unterhaltungsindustrie verewigt waren.
Es war ein magischer Moment, umgeben von so viel Glamour und Geschichte- gleichzeitig aber auch die weite Schere zwischen arm & reich / erfolgreich & gescheitert hautnah vorgeführt zu bekommen. Später erreichten wir das berühmte Chinese Theatre. Wo Stars bei Filmpremieren oder Oscar Verleihungen über den roten Teppich schritten. Nach durchforsten von Unmengen von Souvenirshops beschlossen wir zu einem nahegelegenen McDonald's zu gehen, um uns zu stärken. Auf dem Weg dorthin schien es so, als ob sich hier alle möglichen Charaktere versammelt hatten. Es gab Straßenkünstler, die ihre Talente zeigten, und seltsam gekleidete Menschen, die ihre eigene Version von Hollywood repräsentierten, aber auch eine große Menge gescheiterter Existenzen. Fasziniert beobachteten wir, wie sich diese bunte Mischung von Menschen um uns herumbewegte. Nach einer schnellen Mahlzeit machten wir uns zu vorgerückter Stunde auf den Rückweg zum Motel. Nicht jedoch ohne bei einem Straßenkünstler anzuhalten, der Andy als Büste verewigte. Währenddessen, vorneweg und hintendran versuchte HaJo so gut wie jeden Stern des Walk of Fame zu fotografieren. Denn aus der durch den Künstler versprochenen Viertelstunde- wurden wundersamerweise anderthalb. Dieser erste Tag hinterließ einen bleibenden, wenn auch sehr gemischten Eindruck der Stadt der Engel- aber auch der Stadt der gefallenen Engel bei uns allen.
English:
Day 18, June 04, 2023 (Sunday)
"All That Glitters Ain't Gold" Los Angeles – Hollywood
After a long drive along Highway 1 and many beautiful domestic routes, we reached Los Angeles. Collapsing traffic, traffic jams, heat. Nevertheless, we were very curious to explore the city of dreams and see all the famous sights. We checked in at the "Dunes Inn Sunset Motel", a well-located motel near Sunset Boulevard. While Tom and Christoph went to Hollywood Boulevard, the rest of the group decided to visit the boulevard in the evening – and to make a detour to the beautiful Santa Monica Pier to spend the afternoon relaxing in the sun. In the evening we also made our way to Hollywood Boulevard. We could hardly believe to actually stand on the famous Walk of Fame, where so many legends of the entertainment industry were immortalized. It was a magical moment to be surrounded by so much glamour and history- but at the same time to see the differences in societal classes was demonstrated up close. Later we reached the famous Chinese Theatre. Where stars walked the red carpet at movie premieres or Academy Awards. After browsing through tons of souvenir stores, we decided to go to a nearby McDonald's to fortify ourselves.
On the way there, it seemed like all sorts of characters had gathered here. There were street performers showing off their talents and oddly dressed people representing their own version of Hollywood, but also a large crowd of failed existences. Fascinated, we watched this colorful mix of people move around us. After a quick meal, we made our way back to the motel at an advanced hour. But not without stopping at a street artist who immortalized Andy as a bust. Meanwhile, in front and behind HaJo tried to photograph as good as every star of the Walk of Fame. Because from the quarter of an hour promised by the artist miraculously became one and a half. This first day left a lasting, albeit very mixed impression of the city of angels – but also the city of fallen angels with all of us.
German:
Tag 19, 05.06.2023 (Montag)
"Bye bye Hollywood Hills" Von Los Angeles / Hollywood nach Palm Springs
Am nächsten Morgen beschlossen wir, die Hollywood Hills zu erkunden. Wir machten uns früh auf den Weg, um den später einsetzenden teils chaotischen Straßenverkehr zu vermeiden und damit das Beste aus diesem kurzen Ausflug zu machen. Als wir die Hollywood Hills erreicht hatten, waren wir voller Vorfreude – mussten jedoch die sehr engen und extrem steilen Straßen, die durch einen kurzen Regenschauer sehr glatt waren äußerst vorsichtig nehmen. Endlich, auf unfassbar nahe 50 Meter herangekommen war jedoch zu unserer großen Verwunderung das Hollywood-Schild im dichten Nebel kaum zu erkennen. Wir konnten nur die Umrisse erahnen und mussten uns mit einigen Fotos mit einem verschwommenen Schild begnügen. Na ja, zumindest können wir seitdem damit nun auch eine erste tragikomische Erinnerung unser Eigen nennen. So etwas hat sicher auch nicht jeder in seinem Repertoire. Auf dem Rückweg von den Hollywood Hills hielt die Glätte auf der Strasse an und wir mussten weiterhin sehr vorsichtig fahren, um nicht ins Rutschen zu geraten. Es war wie eine Achterbahnfahrt, nur ohne Sicherheitsgurt! "Das war damit dann wohl auch unsere ureigene Hollywood-Action-Szene, unser eigener Hollywood Stunt." Als nächstes machten wir am Griffith Observatorium Halt.
Alle kannten James Dean und wussten, dass der berühmte Film "Denn sie wissen nicht, was sie tun" ("Rebel without a cause") dort gedreht worden war. Ein sehr schönes Gebäude vor dem es jedoch vor Polizei und Ordnern nur so wimmelte. Also setzten wir unsere Reise fort. Nun ging es erneut über wunderschöne Straßen, die von Palmen gesäumt waren, und wir genossen die warme Brise, die zwischenzeitlich die morgendliche Kühle abgelöst hatte. Schließlich erreichten wir Palm Springs. Eine malerische kleine Stadt umringt von Bergkämmen. Ein beliebter Ort für Senioren im Winter (scherzhaft "Snowbirds" genannt, da sie den Sommer in ihren Häusern im Norden der USA verbringen). Nach Pool und kurzer Rast entspannten einige im Hotel, andere ließen es sich bei einem mexikanischen Essen im Städtchen gut gehen.
English:
Day 19, June 05, 2023 (Monday)
"Bye bye Hollywood Hills" From Los Angeles / Hollywood to Palm Springs
The next morning, we decided to explore the Hollywood Hills. We set off early to avoid the partly chaotic road traffic that started later and thus make the most of this short trip. When we reached the Hollywood Hills, we were full of anticipation – but had to take the very narrow and extremely steep roads, which were very slippery due to a short rain shower extremely carefully. Finally, approached to incredibly close 50 meters was however to our large astonishment the Hollywood sign in the dense fog hardly to recognize. We could only guess the outlines and had to be content with some photos with a blurred sign. Well, at least since then we can now also call a first tragicomic memory our own. Surely not everyone has something like that in his repertoire. On the way back from the Hollywood Hills the slickness on the road continued and we had to drive very carefully in order not to slide. It was like riding a roller coaster, only without a seat belt! "I guess that made it our very own Hollywood action scene, our very own Hollywood stunt." Next, we stopped at the Griffith Observatory. Everyone knew James Dean and that the famous movie "Rebel without a cause" had been filmed there. A very beautiful building, but in front of it it was swarming with police and police officers. So, we continued our journey. Now we drove again over beautiful streets lined with palm trees and enjoyed the warm breeze that had replaced the morning chill in the meantime. Finally, we reached Palm Springs. A quaint little town surrounded by mountain ridges.
A popular place for seniors in the winter (jokingly called "Snowbirds" since they spend the summer in their homes in the northern US). After pool and short rest, some relaxed at the hotel, others enjoyed a Mexican meal in the little town.
German:
Tag 20, 06.06.2023 (Dienstag)
"Die Schneevögel" Party & Erholungsmeile Palm Springs
Heute wurde Palm Springs unsicher gemacht und der Tag wurde zur allgemeinen Entspannung, dem aufladen unserer Batterien und zum fußläufigen Sightseeing genutzt. Bummeln, essen, Pool… umsortieren des Gepäcks… Einkäufe und Genuss des ruhigen- fast zu ruhigen Städtchens, das sich abends jedoch zu einer Art Partymeile wandelte. Dann noch spezielle Besorgungen für ein special event am nächsten Morgen. Ansonsten ? Keine besonderen Vorkommnisse.
English:
Day 20, June 06, 2023 (Tuesday)
"The Snowbirds" Party & relaxation mile Palm Springs
Today Palm Springs was made unsafe and the day was used for general relaxation, recharging our batteries and walking sightseeing. Strolling, eating, pool… rearranging the luggage… shopping and enjoying the quiet – almost too quiet town, which in the evening, however, turned into a kind of party mile. Then special errands for a special event the next morning. Other than that? No special events.
German:
Tag 21, 07.06.2023 (Mittwoch)
"Route 66 wie sie leibt und lebt". Happy Birthday HaJo und auf nach Kingman
Der Morgen begann damit, dass wir HaJo der heute seinen Geburtstag feierte -erst mit allerlei Geschenken behangen um ihn unmittelbar danach mit einem Geburtstagsständchen zu quälen. Wir sangen zwar nicht schön- (klang leider eher wie der Don Kosaken Chor) dafür aber laut :- ) Nach gemeinsamem Besuch des örtlichen Harley Händlers, bedrängt von starken Seitenwinden gepaart mit einem leichten Sandsturm, erfuhren wir bedingt durch den Sand eine leichte Auffrischung des Gesichtes, ein Natur- Sandstrahl- Peeling. Danach trennten sich die Wege für die heutige Fahrt. Denn heute wurden zweierlei Wüstenrouten ausgewählt. Tom und Christoph fuhren schon mal nach Kingman vor um nicht in die Dunkelheit zu geraten und nebenher schon mal weitere Filmaufnahmen zu machen. Der Rest der Gruppe hatte für sich entschieden nicht den direkten Weg zu nehmen, sondern noch wie geplant den wunderschönen Joshua Tree National Park anzuschauen. Spät Abends erreichte dann auch die zweite Gruppe nach faszinierender Fahrt durch mehr als 100 km totenstiller Wüste unser Best Western Wayfarers Inn Motel in "DER Route 66 Stadt" Kingman
English:
Day 21, June 07, 2023 (Wednesday)
"Route 66 as she lives and breathes" Happy Birthday HaJo and off to Kingman
The morning began with the fact that we HaJo today celebrated his birthday – first with all kinds of gifts hung to torment him immediately afterwards with a birthday serenade. We sang not beautiful (unfortunately sounded more like the Don Cossack Choir) but loud :- ) After a joint visit to the local Harley dealer, beset by strong side winds coupled with a light sandstorm, we experienced due to the sand a slight refreshment of the face, a natural sandblasting peeling. After that, we parted ways for today's ride. Because today two desert routes were selected.
Tom and Christoph drove ahead to Kingman to avoid the darkness and to do some more filming. The rest of the group decided not to take the direct route, but to visit the beautiful Joshua Tree National Park as planned. Late in the evening, after a fascinating drive through more than 100 km of dead silent desert, the second group reached our Best Western Wayfarers Inn Motel in "THE Route 66 town" Kingman.
German:
Tag 22, 08.06.2023 (Donnerstag)
"Get your Kicks on Route 66" Von Kingman nach Prescott
Kingman, eine Stadt wie aus einem romantischen Bilderbuch. Sie hätte durchaus auch Drehort für Filme wie "American Graffity" sein können. Die Straßen wirken wie Kulissen aus Filmen der 50er Jahre, mit ihren tollen Diners und den nostalgischen Reklameschildern. Überall erklingt Elvis und Rockabilly-Musik, und man fühlt sich in eine vergangene Zeit zurückversetzt. Neben Seligman, dass wir auf unserem Weg passierten, ist Kingman eine DER Städte, die maßgeblich zum Erhalt der Route 66 beigetragen haben. Wir entschieden uns bewusst dafür, bei unserer Weiterfahrt die neuen Straßen zu meiden und stattdessen die alte Route 66 bis fast nach Prescott (unserem nächsten Ziel) zu befahren. Dabei machten sich die berühmten "Kicks der Route 66" automatisch bemerkbar, denn die in die Jahre gekommene Straße war manchmal, gelinde ausgedrückt, nicht nur ein wenig holprig. Unterwegs machten wir einen Stopp – um, wie könnte es anders sein … einen Happen zu essen. Also hielten wir an einem Lokal entlang der Route 66, das offensichtlich bei deutschen Touristen sehr beliebt war – dem "Lilo's".
Man erkannte es unschwer nicht nur an den amerikanischen und deutschen Fahnen, die auf der Strasse vor dem Restaurant wehten, sondern neben der Speisekarte auch an den unglaublich vielen deutschen Kennzeichen, die die inneren Wände zierten. Alles in allem war es ein einmalig schönes Erlebnis, wie so vieles, das wir bisher auf unserem Roadtrip erleben durften. Die Route 66 versprühte hierbei einen ganz besonderen Charme und ließ uns den Livestyle und Feelings vergangener Zeiten sehr gut erahnen. Auf die Gefahr hin mich an dieser Stelle sicher zu wiederholen: Auch dies war ein unvergesslicher Teil unserer Reise, der uns lange in Erinnerung bleiben wird. Untergekommen im "Days Inn by Windham" erlebten wir Prescott als eine Stadt, die zu Recht oft als eine der schönsten Kleinstädte Arizonas bezeichnet wird. Die Landschaft um uns herum war geprägt von riesigen Granitfelsen und wunderschönen Wäldern mit sehr kurvenreichen Strecken. Es war ein Anblick, der einem ein wenig die Sprache verschlug. Doch nicht nur die Natur war beeindruckend, sondern auch die Stadt selbst hatte einiges zu bieten.
Überall gab es kleine Geschäfte mit Vintage-Architektur, die einen Hauch von Nostalgie versprühte. Besonders beeindruckend war der unglaublich riesige Antique-Store, der in vergangene Zeiten entführte. Man konnten sich kaum sattsehen an den vielen interessanten Dingen, die dort zum Verkauf standen. Es war ein Ort, der ganz sicher jedes Sammlerherz höherschlagen lässt. Fast bedauerten wir, hier nicht für zwei Nächte geblieben zu sein, um noch mehr von dieser perfekten kleinen Stadt zu entdecken. Aber einmal muss man sich schließlich verabschieden und außerdem freute man sich schon auf das, was noch kommen würde. Prescott hatte jeden einzelnen von uns in seinen Bann gezogen und wird sicher so schnell von keinem von uns vergessen werden. Zumal es on Top noch einen prima Harley Davidson Laden gab : -)
English:
Day 22, June 08, 2023 (Thursday)
"Get your Kicks on Route 66" From Kingman to Prescott
Kingman, a town like something out of a romantic picture book. It could well have been the location for movies like "American Graffity. The streets look like sets from 1950s movies, with their great diners and nostalgic billboards. Elvis and rockabilly music sounds everywhere, and you feel transported back to a bygone era. Besides Seligman that we passed on our way, Kingman is one of THE towns that contributed significantly to the preservation of Route 66. We made a conscious decision to avoid the new roads on our onward journey and instead drive the old Route 66 almost to Prescott (our next destination). In doing so, the famous "kicks of Route 66" automatically made themselves felt, as the aging road was sometimes, to put it mildly, not just a little bumpy. Along the way, we made a stop – to, how could it be otherwise … grab a bite to eat. So we stopped at a place along Route 66 that was obviously very popular with German tourists – "Lilo's". It was easily recognizable not only by the American and German flags waving on the street in front of the restaurant, but also by the incredible number of German license plates adorning the interior walls, in addition to the menu. All in all, it was a uniquely beautiful experience, like so much that we have been able to experience so far on our road trip. Route 66 exuded a very special charm and gave us a good idea of the lifestyle and feelings of times gone by. At the risk of repeating myself at this point: This was also an unforgettable part of our trip, which we will remember for a long time. Staying at the "Days Inn by Windham", we experienced Prescott as a town that is often rightly described as one of the most beautiful small towns in Arizona. The landscape around us was characterized by huge granite boulders and beautiful forests with very winding roads. It was a sight that left one a bit speechless. But not only the nature was impressive, but also the city itself had a lot to offer.
Everywhere there were small stores with vintage architecture that gave off a hint of nostalgia. Especially impressive was the incredibly huge Antique Store, which took you back in time. You could hardly get enough of all the interesting things for sale there. It was a place that certainly makes every collector's heart beat faster. We almost regretted not staying here for two nights to discover more of this perfect little town. But you have to say goodbye once, after all, and besides, we were already looking forward to what was to come. Prescott had captivated each and every one of us and certainly won't be forgotten by any of us anytime soon. Especially since there was a great Harley Davidson store additionally : -)
German:
Tag 23, 09.06.2023 (Freitag)
"Die Westlichste Stadt im Westen" Scottsdale
Von den frühen Morgenstunden an, bis zum Nachmittag erkundeten wir Prescott ein letztes Mal sehr ausgiebig, bevor wir unsere Reise zum Ausgangspunkt, dem Rodeway Inn in Scottsdale, fortsetzten. Die Strecke dorthin führte uns über hohe Pässe, mit endlosen Kurven und einer Vielzahl an Höhenmetern. Ein wahrer Genuss für alle Motorradbegeisterten. Unterwegs machten wir noch einen Zwischenstopp bei einem Straßentrödelverkauf, wo der ein oder andere von uns noch eine kleine Erinnerung erstand oder sogar vom Verkäufer geschenkt bekam.Die Straßen waren von nun an gesäumt von unzähligen Farmen, die uns den Eindruck vermittelten, dass die Strecke nach Scottsdale viel kürzer sei, als sie es tatsächlich ist. In Scottsdale angekommen, nutzten einige von uns die Gelegenheit, noch einmal in die Altstadt zu fahren, dort die Straßen entlangzuschlendern.Am Abend besuchten wir dann Harley Davidson, um einige weitere Aufnahmen zu machen, denn wir wussten, dass unsere Reise langsam, aber sicher dem Ende entgegen ging.
English:
Day 23, June 09, 2023 (Friday)
"The West's most Western Town" Scottsdale
From the early morning hours until the afternoon, we explored Prescott very extensively one last time before continuing our journey to the starting point, the Rodeway Inn in Scottsdale. The route there led us over high passes, with endless curves and a multitude of altitude meters. A real treat for all motorcycle enthusiasts. On the way, we made a stop at a street jumble sale, where one or the other of us bought a small souvenir or even got one as a gift from the seller.From now on, the roads were lined with countless farms, which gave us the impression that the route to Scottsdale was much shorter than it actually is. Once we arrived in Scottsdale, some of us took the opportunity to drive into the old town again, to stroll along the streets there.In the evening we visited Harley Davidson to take some more pictures, because we knew that our trip was slowly but surely coming to an end.
German:
Tag 24, 10.06.202 (Samstag)
"Der letzte Tag" Mesa Motorradabgabe und Rücksturz nach Europa
Auf dem Weg nach Mesa versuchten wir, jeden Moment der wunderschönen Strecken und Landschaften sehr zu genießen. Schließlich war es an der Zeit, die Motorräder abzugeben und unsere Koffer zu packen. Bei Eagle Rider angekommen, waren unsere Maschinen nach kurzem Check unbeanstandet zurückgenommen worden. Dann ging es für jeden von uns ans Umpacken unserer Dinge aus den Motorradkoffern heraus – und hinein in die Reisekoffer. Hm, alle Gepäckstücke waren über dem erlaubten Gewichtslimit. Als Lösung kombinierten wir nun unsere Dinge so lange mit – und untereinander, bis jeder von uns ein halbwegs akzeptables Koffergewicht erreichte. Doch selbst in diesem Moment war jeder einzelne Koffer immer noch zu schwer. Um das Elend nicht weiter sehen zu müssen, beschlossen wir eine leichte Mahlzeit zu uns zu nehmen. Nach der kurzen Mittagspause mitsamt Aufenthalt bei der nahegelegenen Harley Davidson Niederlassung
"Desert Wind", ließen wir einen riesigen Van bestellen, der uns zum Flughafen brachte. Die Flüge verliefen insgesamt sehr ruhig und auch die Zollkontrollen verliefen reibungslos – abgesehen von HaJo, der mit einer schützenden Motorradhose reiste, da sie zu schwer für das Gepäck war. Bei jeder Kontrolle wurde er zur Leibesvisitation gebeten, da die Protektoren nicht eindeutig als solche identifiziert werden konnten. Ich hatte in diesen Momenten das zweifelhafte Vergnügen, bei der Durchsuchung als Dolmetscher dabei sein zu dürfen. Doch auch das haben wir glücklicherweise unbeschadet überstanden und gönnten uns danach eine Pause in einer Lounge am Londoner Flughafen, um uns von dem langen Transatlantikflug zu erholen. Die Londoner Lounge entpuppte sich als teures und zweifelhaftes Vergnügen, zumindest was das kulinarische Angebot betraf. Dennoch genossen wir die anderen Annehmlichkeiten der Lounge in vollen Zügen. Der anschließende Flug nach Düsseldorf verging dann auch wie im Flug.
English:
Day 24, June 10, 2023 (Saturday)
"The last day" Mesa motorcycle drop-off and rebound to Europe
On the way to Mesa, we tried to enjoy very much every moment of the beautiful routes and landscapes. Finally, it was time to drop off the bikes and pack our bags. Arriving at Eagle Rider, our machines were taken back without complaint after a brief check. Then it was time for each of us to repack our things out of the motorcycle cases – and into the travel cases.Hm , all pieces of luggage were over the allowed weight limit. As a solution, we now combined our things with – and among each other until each of us reached a halfway acceptable suitcase weight. But even at that moment, every single suitcase was still too heavy. In order not to have to see the misery any further, we decided to have a light meal. After the short lunch break including a stop at the nearby Harley Davidson dealership "Desert Wind", we had a huge van ordered to take us to the airport. Overall, the flights were very quiet and the customs checks also went smoothly – except for HaJo, who travelled with protective motorcycle pants because they were too heavy for the luggage. At every check, he was asked to be strip-searched because the protectors could not be clearly identified as such. In these moments I had the dubious pleasure of being allowed to be present as an interpreter during the search. But fortunately, we survived this too unscathed and then treated ourselves to a break in a lounge at London Airport to recover from the long transatlantic flight. The London lounge turned out to be an expensive and dubious pleasure, at least as far as the culinary offerings were concerned. Nevertheless, we enjoyed the other amenities of the lounge to the fullest. The subsequent flight to Düsseldorf then also flew by.
German:
Tag 25, 11.06.2023 (Sonntag)
"Trautes Heim" Ingewahrsamnahme der Ehemänner, Beginn des Wäsche- Marathons für die Junggesellen
Endlich gingen wir durch die letzte Zollkontrolle in Düsseldorf und kamen durch den Ausgang des Ankunftsgates. Hier erwarteten wir eigentlich Brigitte, Angela und Frauke- waren jedoch baff erstaunt, dass eine Chapter-Abordnung bestehend aus Achim, Jutta, Gerd, Hannes und Silvie uns zusätzlich einen wirklich tollen Flughafenempfang bereiteten. Eine der schönsten, abenteuerlichsten und faszinierendsten Reisen, die man in dreieinhalb Wochen per Motorrad erfahren und erleben kann war leider zu Ende gegangen. Dafür der Empfang umso schöner und herzlicher. So sollte es immer sein.
Eine nächste Motorradreise –wohin auch immer – wird es natürlich auch wieder geben.
Jedoch wird die jetzige kaum zu überbieten sein.Denn es bleibt einem jeden von uns sicherlich eine große Anzahl an besonderen, gemeinsamen, aber auch individuellen Erinnerungen an die vielen verschiedene Menschen, die uns während der Reise begegneten, an verschiedenste Situationen, die Freiheit auf den Straßen, das Gefühl des Windes im Gesicht und die unendliche Schönheit und Weite, die uns auf unserer gemeinsamen Reise durch den beeindruckenden Süd-Westen der USA begleitet hat.
Harald
English:
Day 25, June 11, 2023 (Sunday)
"Home Sweet Home" detention of husbands, Beginning of the laundry marathon for the bachelors
Finally, we went through the last customs check in Düsseldorf and came through the exit of the arrival gate. Here we were actually expecting Brigitte, Angela and Frauke – but were amazed that a chapter delegation consisting of Achim, Jutta, Gerd, Hannes and Silvie additionally prepared a really great airport reception for us. One of the most beautiful, adventurous and fascinating journeys, which one can experience in three and a half weeks by motorcycle, had unfortunately come to an end. But the reception was all the more beautiful and warmer. So, it should always be.A next motorcycle trip -wherever – will of course take place again.
However, the current one will be hard to beat.
Each one of us will certainly have a large number of special, shared, but also individual memories of the many different people we met during the trip, of the most diverse situations, the freedom on the roads, the feeling of the wind in our faces and the infinite beauty and vastness that accompanied us on our joint journey through the impressive southwest of the USA.
Harald
If you want to comment on this report, write a comment in the "Kommentar" field